5Dimes Poker Room Is Legal For U.S. Players
Poker players living in the U.S. looking for a place to post up and get down on plenty of action should check out 5Dimes. You will find out why all throughout this page, as we go through a detailed examination of 5Dimes poker and what they have to offer that we feel makes them one of the best Internet poker options where American can enjoy legally.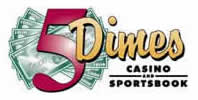 Among the important facets discussed with be the legal implications surrounding 5Dimes. In essence, what makes 5Dimes a legal poker choice? Moreover, the actual process to how players would play legal online poker at 5Dimes is reviewed as well, including the prospect of playing for real money and getting real-money payouts. Of course no one would care to play for 5Dimes should the poker room not offer cash games, tournaments and a variety of formats. Don't worry, they do, and that is talked about as well.
How Is 5Dimes Legal For USA Players?
The reasoning behind 5Dimes being legal for American players is pretty simple. It lies within the fact this legal online poker room does not operate in the U.S. You see, federal laws in the U.S. prohibit the operation of sites within its borders, but there is nothing that they can do about websites and poker rooms that are operating outside of the United States. This is precisely how 5Dimes is legal for American players. The site would have to choose to accept U.S. poker players, for which 5Dimes does.
Players from the United States who are at least 18 years old are able to create an account with 5Dimes to play online poker for real money. It's as simple as that. And the best part is that all 50 states are accepted here whereas some online betting sites can at times be restrictive. So if you were a player wondering about the legality of 5Dimes, hopefully this puts that to rest.
To learn more about if online poker is legal for players in the U.S. - Click Here
How Old Do I Need To Be To Play Online Poker at 5Dimes?
5Dimes requires their account holders to be at least 18 years of age to play online poker for real money. The site is based in Costa Rica and is subsequently not under the jurisdiction of the American government. However, the poker room does state on their site that it is the player's responsibility and not 5Dimes' that they are in compliance with any local gambling age related laws. 5Dimes will accept players that are at least 18 years of age, but it's important to know the local gambling age in your state.
Legal Deposit Options Accepted At 5Dimes
To play for real money at 5Dimes, players will be asked to deposit into their accounts to then place the bets in the poker room according to how they want to play. There are several ways in which U.S. players can make deposits. Check them out below.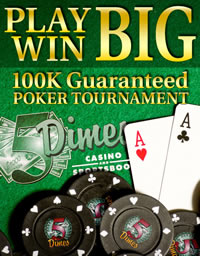 Visa Deposits - Those with a 5Dimes account can use their Visa cards to fund their account. Initial deposits for Visa cards are restricted from $50 to $250. Other cards with a Visa logo can be deposited as well, though it is not currently available for new account holders. A Visa deposit is a nice and easy way to fund for the poker room.
Cashier's Check/Money Order - Just like you would get a cashier's check or a money order for a purchase, the same process can be concluded for a deposit into 5Dimes. Bettors can secure the check or money order and send it off to 5Dimes, for which it will then immediately be funded into your account.
Non-U.S. Methods Of Depositing
5Dimes accepts players from many countries around the world, of which they have more available deposit options. There are a variety of e-wallets and electronic transfers of funds. This includes NETeller, Instadebit, Skrill, and Click2Pay.
5Dimes Withdrawals And Payout Options
Payout options from 5Dimes' online poker room can come in a variety of different ways. One of the most common ways for a player to get a withdrawal is in the form of a check. This is different from a cashier's check or money order deposit though a payout is available through a money order as well. Checks are simple to use, but at 5Dimes they have a high payout minimum which is $1,000. Actually, the same minimum is in place for when using a money order as well.
The payouts continue with a bank wire transfer, where a $500 minimum is required. A regular wire transfer has just a $100 minimum, and takes typically less than two days. A wire transfer is the fastest payout option at 5Dimes, but comes with fees upwards of $110.
The 5Dimes debit card payments allow bettors to get money back on their debit card, with a minimum of $100 to a maximum of $2,500. This is a new option, and one that is pretty exciting.
5Dimes Games + Tournaments

5Dimes is great at listing out the features that they have for poker on site. It's very organized and user-friendly in terms of the games offered plus the tournament formats that account holders are given the choice of playing. Texas Hold'Em will be the most popular game played at 5Dimes, but that is just the beginning of what is offered.
In terms of tournaments, various formats like bounty and knockout tournaments are available, as our re-entry tournaments and timed tournaments. Entry fees for tournaments can meet the budget of any type of player looking to grab some table action. Complete information about the games and tournaments at 5Dimes can be found on site.
Overall Assessment Of 5Dimes Poker
5Dimes is one of our favorite real money online poker rooms to visit and play. They offer some of the best tournament formats and cash games around, ensuring that no matter what type of poker mood we are in they have something to suffice.
In terms of other aspects, stemming from deposits and payouts, they are pretty good. They do not offer the most options out there, but they offer ones that can apply to many, which is very important. 5Dimes Poker has been in the game for a long time, and they certainly know what they are doing.
Go Back To LegalPokerRooms.com Homepage
More On Legal Poker Rooms
Legal USA Poker Rooms